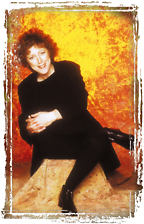 In Laura Smith's music, real emotions ebb and flow. Your heart is in her capable hands, and likewise, she has entrusted you with hers. As she sings, her strong, melodious voice waves and catches, snagging on a scar here and there, surfing on a wonder, staring down a riddle... As you listen, the two of you go along together; brave and surfacing; calm and inquisitive.
Smith's music is direct and honest. Sometimes, fiddles and guitars gently lift and carry her spirited vocals, while her melodies and careful poetry dig deep. "My work is all very simple, earth-based," says the Maritime-based singer/songwriter. Her work is not so much written, as painstakingly designed, cut and stitched together. "Like quilt craft," she explains. "I make it body and soul, with everything I have available - my sensibilities, my ability to play. So many things come into the making of a song. When I say write, it limits what I bring to bear."
Laura has already experienced exhilarating career highs. Her 1994 album b'tween the earth and my soul elicited unbounded critical acclaim, enormous airplay, national television appearances and a hungry demand for live performances. From the stages of Denmark to Newport, Rhode Island to Vancouver to the Yukon, Smith has shared the secrets of her soul, laying out for rapt audiences her private, yet ultimately universal experiences.
Born and raised in London, Ontario, Smith grew up loving horses, theatre and language. As a teenager, she found comfort in the voices of Janis Joplin, Joni Mitchell, Ray Charles and Paul Simon. She began to play music at age 19, first teaching herself piano chords, then guitar. Her public debut performance occurred at Smale's Place, the coffee house where she worked as a waitress, when she was invited on stage to sing a song with the headlining act. Around that time, she was writing poetry and, through a friend, met Governor General Award-winning poet, Margaret Avison, then writer-in-residence at the University of Western Ontario. "She was very encouraging," recalls Smith. "Each time I went to visit her, I read a poem and she told me I was a wonderful writer. It was very informal, but she affected me."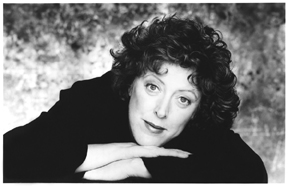 Moving to Toronto in 1972, Smith embarked on the next leg of her voyage. She met a lighthouse keeper, and shortly after relocated to Cape Breton. The rugged landscape, shifting ocean, moon-filled nights and welcoming community made her feel she had come home. "I was very fortunate to be let into that deep culture," she says. Playing at ceilidhs with her lighthouse keeper (who was also a fiddler), she blossomed in the nurturing atmosphere, not only with her music, but also on stage with a local theatre group.
When the relationship ended four years later, she took up residence in Halifax and made a name for herself at the Flamingo Club, playing Monday nights at the open mic. Thanks to support from CBC, she recorded her first, self-titled album in 1989. Baby career steps turned to self-confident strides when she recorded b'tween the earth and my soul in the St. Mary's University Art Gallery. The stunning result ignited a blaze of radio and television appearances, a tour and a plethora of special performances.
In 1996, she won two East Coast Music Awards (Female Artist, Album of the Year) and two Juno nominations (for Best New Solo Artist and Best Roots and Traditional Album). In 1995, her song "Shade of Your Love" was the most played AC song in Canada. In 1997, she won a Gemini Award for Best Performance in a Performing Arts Program or Series. At the request of CBC radio personality, Peter Gzowski, who was receiving a Governor's General Award, she performed "My Bonny" at the prestigious Ottawa ceremony. Her heartbreaking adaptation of the Scottish chestnut, on b'tween the earth and my soul, had haunted the broadcast host since he first heard it. Of the evening, she recalls, "It will always stand as one of the great honours of my career."
In May 2003, Laura received an Honorary Doctorate in Humanities from Mount Saint Vincent University on the strength of her songwriting. She toured small cafes and clubs that year with Tony Quarrington, Terry Tufts and her long-time collaborator, George Antoniak. 2004 saw her join up with Cindy Church and Susan Crowe to form 'Brava'. They toured major centres to great audiences and lovely reviews. Festival appearances included stops at the Canmore Folk Festival, Edmonton Folk Festival and Stanfest, just down the road from home in Canso, Nova Scotia.
Laura soon embarked on new opportunities and adventures - she was blessed with an opportunity to perform the role of "Marilla" in Anne and Gilbert, the Musical during the summers of 2005 and 2006. During that period she also started at Acadia University working towards her Music Therapy degree.After taking a year off, in November of this year she returned to picturesque Wolfville, Nova Scotia to continue her studies at Acadia.
Laura Smith's gate is wide open, her dreams are getting out. "I hope the Muse finds me a hospitable host," she said recently. "I must re-learn how to make her comfortable." Indeed, there are many stories yet to be crafted into song.
Laura Smith had to take some shore-leave but she's back into the stream of her songwriting life;ebbing and flowing; brave and surfacing.